Wellness for Asian Americans
When it comes to health and wellness, Asian Americans have their own unique needs. These can stem from cultural preferences, genetics and environmental factors. As one of the few companies that provides health care insurance designed specifically for Asian Americans, we understand these needs – and have created relevant resources to address the health and wellness concerns of Asian Americans at every stage of life.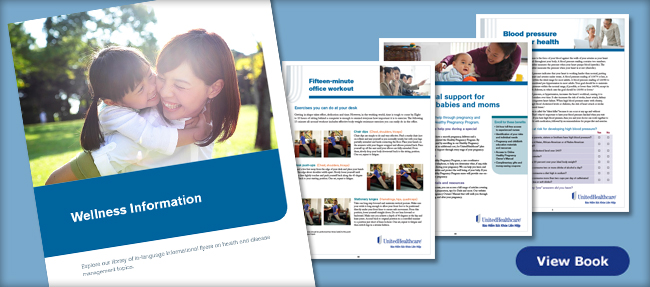 We've collected this information and bundled it together in a useful booklet on health and wellness for Asian Americans that's sure to become a frequently used resource, covering topics that include:
Children's Health Care
It is important for Asian immigrant children to get vaccinated. View the guidelines for physical exams, immunizations, vaccines, and routine screenings.
Diabetes Risk Test
Asian Americans get diabetes at a higher rate than their Caucasian counterparts.9 Know your risks about this growing Asian health issue, and take the test (Page 71) to see where you stand.
Healthy Pregnancy
Indian, Pakistani, Bangladeshi, and Nepali women experience a high rate of pregnancy complications and birth complications3. We have a program to provide personalized help through pregnancy and delivery.
Help to Quit Smoking
According to the Gallup Group, China and Vietnam are two of the countries with the highest percentage of smokers6. As an Asian, stopping smoking or tobacco use can reduce your risk for disease such as lung cancer and heart disease. Smoking is even linked to baldness in men and infertility in women! 7, 8 We offer tools to help you stop smoking.
Hepatitis B
Hepatitis B is common among Asian Americans1, particularly those from Southeast Asia. Hepatitis B can be treated, but there is no cure. Read about how the disease is spread, symptoms and how you can get tested.
How to Lower Blood Pressure
Asian American immigrants may find their blood pressure increases as they change from their home country diet.4 Learn what your numbers mean, and healthful ways to improve them and reduce your risk of heart disease.
Men's and Women's Health Care
A complete look at the health needs of Asian American women and men, featuring a guide to health screenings and preventive health guidelines.
Stomach Cancer
Asians get stomach cancer at a rate higher than other ethnicities, and this is especially true for Koreans2. Learn about your risks, getting tested and healthy Asian American lifestyle tips that can help prevent the disease.
Your Guide to Lower Cholesterol
Asian Americans get high cholesterol at rates similar to other ethnicities, which means it's a risk: high cholesterol can lead to heart disease, the leading killer in America. 5 Take this test (Page 87) to find out if you may be at risk, then read about healthy, easy lifestyle changes you can make to get on the right track.