News Detail
UnitedHealthcare Expands New Health Benefits Store in Palisades Park on April 2, 2019
UnitedHealthcare Press Center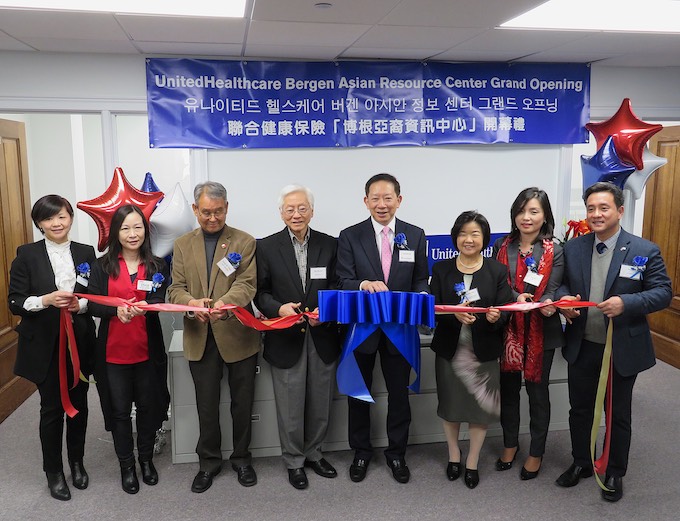 PALISADES PARK, N. J. (April 2, 2019) UnitedHealthcare has opened its newly expanded Asian Health Benefits Resource Center in Palisades Park, which provides enhanced customer service and health education for Asian Americans in Bergen County.
Located at 7 Broad Ave., Suite 301-A, the store is two times as large as its previous location, and will serve approximately 15,000 Asian-Americans with Medicare and employer-sponsored coverage. It is the second UnitedHealthcare benefits store in New Jersey staffed by representatives who offer customized in-language support in Korean, and other Asian languages.
Community leaders joined UnitedHealthcare executives at the new center on April 2nd.
"For more than two decades UnitedHealthcare has helped people in New Jersey's and New York's Asian-American communities live healthier lives," said Chris Law, national vice president, UnitedHealthcare Asian Initiatives. "Our expanded storefront in Palisades Park will provide people who live in Bergen County the customer service and support they need to learn more about their health benefits and the many community services available to them."
This is the company's 10th storefront dedicated to serving Asian-American communities in the United States. UnitedHealthcare was one of the first health plans to provide culturally relevant health care services to Asian Americans. The company founded its Asian Initiatives business in 1994 and established an office in New York City's Chinatown. Its other New Jersey storefront is located in Edison.
New Jersey Medicare beneficiaries and caregivers can visit the store to learn about their Medicare coverage options or participate in health and wellness seminars in the community room. Customer service representatives can answer questions and help connect people with community resources and social services such as the Medicare Saving Program (MSP), Pharmaceutical Assistance to the Aged & Disabled (PAAD) and Senior Gold programs – both New Jersey state-funded prescription drug initiatives that help eligible residents with the cost of prescription medications, and Low Income Home Energy Assistance Program (LIHEAP). The customer service representatives are also available to help people enrolled in UnitedHealthcare employer-sponsored plans review their benefits and eligibility, and provide translation service for documents, including those not related to health insurance plans.
UnitedHealthcare serves more than 1.7 million people in New Jersey with a network of 100 hospitals, and more than 35,000 physicians and other care providers statewide.
For more information, visit www.uhcAsian.com. Medicare beneficiaries and caregivers can visit www.MedicareMadeClear.com to find helpful information in Chinese and Vietnamese, as well as English and Spanish, or please email aim@uhc.com.
About UnitedHealthcare
UnitedHealthcare is dedicated to helping people live healthier lives and making the health system work better for everyone by simplifying the health care experience, meeting consumer health and wellness needs, and sustaining trusted relationships with care providers. In the United States, UnitedHealthcare offers the full spectrum of health benefit programs for individuals, employers, and Medicare and Medicaid beneficiaries, and contracts directly with more than 1.2 million physicians and care professionals, and 6,500 hospitals and other care facilities nationwide. The company also provides health benefits and delivers care to people through owned and operated health care facilities in South America. UnitedHealthcare is one of the businesses of UnitedHealth Group (NYSE: UNH), a diversified health care company. For more information, visit UnitedHealthcare at www.uhc.com or follow @myUHC on Twitter.